Laser is an acronym for Light Amplification by the Stimulation Emission of Radiation. Medical lasers utilize light radiation to cleanly cut through tissues when the beam of light is focused on the tissue itself. When the beam of light is defocused, the laser can then be utilized to decrease the size or 'debulk' the tissue.
Laser surgery benefits for patients
Less Bleeding: As it cuts, the laser seals small blood vessels. This drastic reduction in bleeding enables a number of new surgical procedures that are not practical with conventional scalpel.
Less Pain: The CO2 laser beam seals nerve endings and lymphatics, resulting in less edema and pain. The patient experiences a far more comfortable post-operative recovery.
Reduced risk of infection: This is one of the unique features of the CO2 laser beam. It efficiently kills bacteria in its path, producing a sterilizing effect.
Quicker recovery time: Reduced risk of infection, less bleeding, less pain and less swelling often allow the patient a far quicker recovery after the surgery.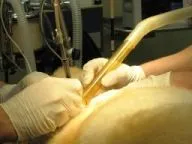 The most common soft tissue surgery performed at our clinic is the removal of masses or 'lumps' on animals. Most of these masses or 'lumps', once removed and tested, are benign (non-harmful); however, occasionally they are more serious. Early removal and accurate diagnosis of a 'lump' is necessary to improve the outcome in your pet if the mass is cancerous. Lacerations are also common in pets and lasering will reduce the chance of infection, improve healing time and reduce scarring.
Dermatology surgery procedures: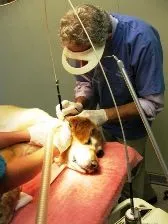 Acral lick granuloma ablation, Cutaneous masses: skin tags, Follicular cysts and tumors, Gingival hyperplasia and epulis, Hyperkeratosis of digital pads /nasal planum, Hemostasis, Malignant melanoma, Localized demodex,inclusion cysts, papillomas, Epibulbar melanoma, Pigmented viral plaques, Actinic keratosis, Pinnal tumors, Feline ceruminous cystomatosis, Calcinosis circumscripta, Squamous cell carcinoma removal, Viral papillomas, Wound management (acute and chronic), Nodular sebaceous hyperplasia, Plasma cell pododermatitis.
"The CO2 laser proved to be an excellent choice for laser surgery because of the ability to limit the zones of damage to microsurgery with little to no collateral damage. This laser is the primary laser in use today in veterinary dermatology. The operator can easily control the device for use in three ways: skin incision, lesion excision, and ablation. It can be readily controlled for precise microsurgery or can be used for ablating larger lesions. Because of its high absorption by water, there is little to no collateral tissue damage with this laser when used properly. ...the ability for the operator to control the effect of the laser beam essentially to the area that you can see with no collateral damage, has led to wide use of this laser in many areas of medicine, including veterinary dermatology ..."